LODOWN MAGAZINE (Germany): #63 — October/November 2008
TERRY RODGERS
cocaine dreams of the hypermaterialistic society?
by Catherine Somzé
If the private get-togethers of today's privileged have ever constituted the object of one of your own fantasies, the paintings by US artist Terry Rodgers will surely challenge your imagination.
Terry Rodgers' world is that of appearances, the wealth of which is primarily that of the art of painting.
In which way does Terry's work articulate nakedness and sexuality? In a pornographic manner as some have argued? One must remember that the nude portrait –and pornography itself—hasn't always taken the same form nor served the same cultural purpose. For instance, it was not until the nineteenth century that the nude became a genre on its own having been subordinated to the representation of literary scenes.
That said, what at first sight primarily differentiates Terry's work from present-day pornographic productions is the lack of graphic references to the sexual act. Today, surrender, physical perfection and equivocal situations characterize not only pornography, but permeate the world of media and advertising. As, for instance, Jeff Koons, Marc Quinn and the Chapman brothers do, Terry appropriates and stages key elements of the media's visual rhetoric in order to more acutely reveal the obsolescence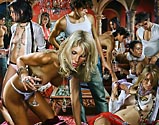 of the myth of capitalist well-being that they support. Terry's paintings function like fun-house mirrors, whose distorted reflections still serve to reveal certain hidden aspects of reality.
It is therefore set against the backdrop of cultural theories that Terry's paintings most fully reveal their meaning. There is something pornographic about the experience of human relationships governed by the laws of market economy and about contemporary manners that turn sexuality and the private sphere out into the public realm so as to better profit from them. According to the French historian and philosopher Michel Foucault, the survival and control of modern
society depend on a politics of individualized pleasures and on the valorization of an exhibitionist behavior.
In this world of wealth, the survival of which depends on its subjects' obedient consumption, individuals are reduced to harboring superficial human relations. Fallen prey to desires that neither bodies nor available luxury seem to satisfy, each of the beings that crowd Terry's paintings is self-centered –the body on display and the gaze introverted. They all seem to have crafted their appearance so as to render it as sleek, chic, and delectable as possible. From their being only a marketable image remains, the one which will give them their life credentials in what Guy Debord has named the Society of the Spectacle.
Terry Rodgers gives us a taste of these ritual gatherings –festivals sans festivity—whereparticipants seem to have abandoned life as a meaningful experience, and replaced it with a material enterprise. Petrified by the power of their own stare, they have become the lifeless idols of an era driven by consumption.
—Catherine Somzé, Amsterdam 2006
The paintings' sarcastic titles point to the artist's certainty that real life is elsewhere. Alternative Fictions (2005), depicting another endless party populated by undressing men and statuesque women in negligees, continues the theme of disconnectedness: all are present, yet absent, proving the show to be an elegy to emptiness.
—Cathy Byrd, 2006
Rodgers' work is a psychological exploration and a cultural interrogation. It demands that we look, and look long and hard, and it forces us to answer questions not only about the scene we are struggling to understand, but also about the motives and purposes that make our lives matter.
—Jim Zimmerman, 2002