GQ Germany— October 2005
GQ Deutschland Interview with painter Terry Rodgers
Text: Marcus Lucas
Images: Terry Rodgers
English Translation (Partial) from German


TERRY RODGERS, PAINTER
The colorful, vivid semi-realistic paintings of the American confuses one at first sight. And then nevertheless draws you into a strange world, one of beauty, riches, nakedness - a fantasy world, where Rodgers has reflected the pictures in the heads of celebrity junkies.
NAKEDNESS, BEAUTY, DECADENCE:

THE ART OF TERRY RODGERS.

NAKED TRUTH
How does one paint longing? The 57 year-old American consolidates the glamorous world into his paintings. In his paintings pure decadence prevails - and isolation.
by Marcus Lucus

ONE SEES REALITY AND FICTION AT THE SAME TIME.
BEAUTY DOES NOT SATISFY.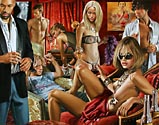 Mister Rodgers, although your figures are obviously young, beautiful and successful, they seem somehow lost and bored. What does this say overall about the youth of America?
I cannot speak for America. I show a fantasy world, in which humans are symbols are for what we understand as an exciting, mad life. Beauty and everything that we connect with it, is the goal our desire. I suspect that it is no different in Europe. But beauty unfortunately does not satisfy - although advertising maintains the opposite.
Is this a criticism of the culture?
I am not here to criticize something. I paint, what I see: Fragile humans trying to make connections to others. One notices at parties how much is superficial. But there is the possibility always for humans to have deeply felt connections. With many of the couples in these paintings, one can't be sure.
Your paintings to the naked eye could remind one a bit of a photo snapshot. How does a Terry Rodgers picture develop?
For each painting, I photograph dozens of people in single sessions in my studioSometimes they are models, sometimes ordinary people, whom I simply approach on the street. At the computer I arrange these photos using Photoshop. It may happen that I exchange parts of the body with individuals. In each case I consolidate the atmosphere, by arranging the figures in the picture as they would look if they were together with many details, as they would look in real life. The expression of the finished composition, though, is my creation. My paintings do not pretend to be real. The colors, for example are somewhat too vivid. This crossing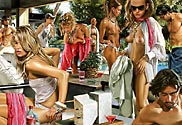 over between photography and painting fascinates me, this confusing moment. The viewer notices unconsciously that what he sees is at the same time reality and complete fiction.
Your scenes are cinematic - something, which one connects generally with Edward Hopper. Did he have some influence on your painting?
Oh, wow. Perhaps in the way he focused on isolation. I think however, Hopper's pictures are somewhat flatter and calmer than mine. Above all my compositions incorporate many more people into the scenes.
One could ask oneself, why these people are nearly always naked.
Because nakedness is the perfect, compressed metaphor for our longing after a better life.
Is viewer a part of your concept?
Absolutely! Some the pictures are as large as a small cinema screen. These dimensions automatically pull the viewer into the area and make him a member in the chain of connections between the figures in the painting. "The Dimensions of Ambiguity" features a woman, who sits completely in the foreground on the sofa. It is impossible not to look between her legs. At the same time one knows that the subjects' attention is someplace else completely. If we see another person, then we project so many things on them - things, which we have in our heads and have nothing at all to do with their reality.
On some of your paintings one can discover such stars as Paris Hilton or Jennifer Garner.
They did not pose for me, but I integrate such Celebrities gladly because this can represent along with nakedness and beauty - all our longings. An immaculate woman such as Paris Hilton embodies that perfectly. It is a canvas, on which we are able to throw our dreams.

The Torch Gallery presents three of Terry Rodgers' paintings in Art Cologne from October 28 to November 1.