Black+White: Issue #76 — December 2004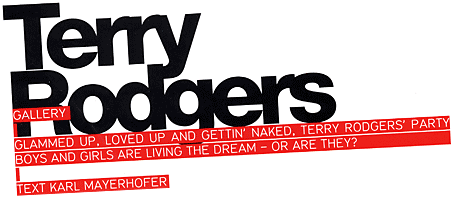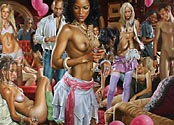 AT FIRST glance, Terry Rodgers' paintings possess all the glamour and buzz of a Renoir soiree, updated for the been-there, snorted-that LA party scene. A closer look, however, reveals that someone's spiked the punch. Everyone is struggling to appear comfortable and cool, there is no eye contact and no one is smiling. For all the champagne, mobile phones, fashion, jewelry, and gorgeous bodies, they remain wanting. As Rodgers allegorizes, "You might have had sex but you didn't necessarily connect. Ultimately, people want both and connecting is clearly the harder part."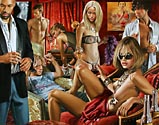 The Ohio-based, DC-raised artist sources the models for his larger-than-life canvases from everyday life. He stops people wherever he finds them, photographs them and later immortalizes them in vivid oils. "My wife and I were in New York and I was going up this long escalator and there's this woman going down who was kind of interesting, then this man goes down and blows me away, so I go racing down the up-escalator and say, 'Look, you don't know me from Adam but you guys would be great in a painting.'"

On that occasion, the eye-catching specimen was indeed a professional model, but many of the painted partygoers aren't even that. Rodgers isn't opposed to using famous faces though; it's just a matter of opportunity. Val Kilmer mingles listlessly in American Rhapsody (which graced the August 2003 cover of Flaunt magazine) while a new painting, Shades of Olympus, features Paris Hilton. Rodgers also did a shoot recently with Heatherette's transsexual spokesmodel, Amanda Lepore. "Celebrities epitomize this peculiar duality of marketing versus reality," he says. "We end up not knowing who they are because they're marketed [and you can't] talk to them."
The ideas behind Rodgers' paintings echo the Dalai Lama's writings on happiness, specifically regarding marketed lifestyles, celebrity and their effects on those who aspire to them. "It's a legitimate thing to be seduced by beauty or luxury," says Rodgers, "but when they get confused with why I'm living and what I'm living for, the self gets sidelined; they often become the obsession rather than the life."

"[My work] is kind of a metaphor…not everybody wants to be at some fancy party in Monaco or Cannes. It may simply be a bigger motorcycle or leaving this wife for a younger one. People are working 50 hours a week trying to get the next Lexus or whatever and it's like, 'Why don't you spend time doing stuff together?' and it's hard because we have nothing in the culture that suggest that. You don't market spending time together."