Exhibition Catalogue:
Kunsthalle der Hypo-Kulturstifung, Museum Franz Gertsch & Kunsthal Rotterdam — 2006, 2007
Painting of the Present
Back to the Figure
Terry Rodgers' paintings are masterpieces of composition, which at first sight, look likesnapshots at a party, but emerge as photo-realistic constructions of figures and moods. The artist asks friends, acquaintance, and complete strangers to model for him. He artfully and creatively arranges the complex compositionusing these photos of the models as a foundation.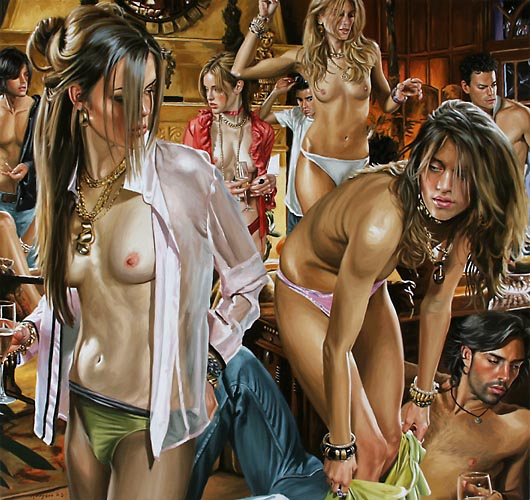 His canvases capture individuals in their isolation, nevertheless by an interaction out of our view, they are apparently physically and intimately connected. Rodgers shows his figures reflecting, looking inward, surrounded by a world of prosperity and materialism, and suggests the voyeur abandoned and isolated from the scene. The viewer gets an impression as if he were a participant of the happenings. With realistic precision, he puts his figures into the paintings and thereby gives the impression that they are part of the scene. The hyper-realistic presentation and the tension that the scene shows gives the art a mystical mood that makes it so attractive.
In a type of social documentation, Rodgers shows the American upper and middle class, without condemning or criticizing them. He focuses on the search for desire and the erotic bodily beauty which is too isolated for real sensuousness to have an effect.
2006-2007